Accounting , Audit & Assurance
PanAudit Konnaris Ltd with the excellent IT support available and qualified staff provides the most accurate and comprehensive of monitoring accounts.

Our accounting department offers the following services for small and big business units :
Registration of books and records at the computers of our own House
Preparation of payroll and payment of tax cuts and at the appropriate department
Preparation, submission, and payment the tax returns of VAT and Social Insurance Fund
Preparation of various reports for management purposes such as analysis debtors- creditors, statistical reports
Preparation of monitoring budgets
Preparation of economic situations.

"Our goal is the safe and proper operation based on International Accounting Standards (IAS)
and International Financial Reporting Standards (IFRS)"

We are acting as referrals for the Auditing services of the companies to our associated firm PanAudit Konnaris Limited. The method that PanAudit Konnaris Limited have focused its attention on the customer's business, not only allows efficient implementation of control, but suggests appropriate recommendations to the client.
The audit services offered are as follows:
The audit focused on the company and not only on the financial statements.
Statutory audit for companies
Audit of financial information, including financial statements prepared in accordance with International Financial Reporting Standards (IFRS)

"A basic goal is to convince the customer that the audit is not a passive process but an active tool for adding value to the company contributing to its development."

Internal Auditing is an objective assurance and consulting activity designed to add value and improve an organization's operations. It can help an organization accomplish its strategic objectives by bringing a systematic, disciplined approach to evaluating and improving the effectiveness of risk management, control, and governance processes.
Services:
Enterprise Risk Management services is designed to assist companies in developing the people, processes and technology required to identify, assess and respond to key enterprise risks. They typically encompass;
Enterprise Risk Assessments
Capability Maturity Assessments
Capability Development Programs
Governance & Risk Oversight services help senior executives and boards to evaluate a company's risk management environment, design and implement solutions to identify, assess and respond to strategic risks, and improve Enterprise Risk Management capabilities.
IT Internal Audit incorporates technology control reviews, security, ERP and other technology related audits, including general computer controls performed in conjunction with internal audit activities.
Quality Assessment services offer a comprehensive review of the overall effectiveness of an internal audit function including compliance to professional standards, effectiveness and efficiency of function activities, organization, resource and skill capabilities, evaluation of stakeholder needs and fulfillment of those needs, and identification of strengths and improvement opportunities that strategically position the internal audit function for on-going success. These services can be provided to attest and non-attest clients.
Out / Co – sourcing arrangements .The traditional view of the corporate Internal Audit Function is a group whose mission is to be an independent department within the organization to report to management on the adequacy and strength of the internal control structure. This role has changed over time and the scope of internal auditing has evolved to include not only the safeguarding of organizational value, but also include the enhancement of this value. More and more businesses are deciding to outsource ancillary or support functions to outside providers. This allows the organization to focus on its "core business" functions of addressing competition and increasing its market share. Internal Audit is one area where outsourcing can be successful.

"The role of Internal Audit has changed significantly over the past 5 – 10 years, and Best Practice Internal Audit is an important element of good corporate governance, enhancing the effectiveness of management controls, the risk management framework and business processes."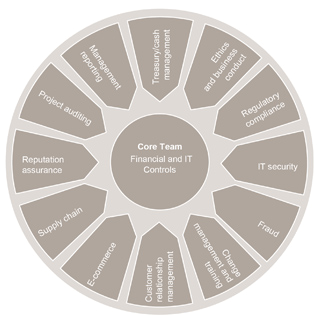 Contact Us
For more information please contact us at
+357 22 777802
Fax +357 22 771469
25th March Str. no 19, 1st Floor, 2408 Engomi, Nicosia – Cyprus
P.O. Box 25621, 1311 Nicosia – Cyprus
M-F: 8am-5pm, S-S: Closed